A journey with your family in Vietnam is a wonderful way to strengthen the connection and make priceless memories with loved ones. Families with kids of various ages can find a variety of activities and attractions in Vietnam.
Parents can let their children have educational experiences by going to historical sites, visiting traditional craft villages or taking cooking classes. Exploring and experiencing a lot also helps children grow up with more vision and love for nature and people.
Vietnam is an ideal country for a family vacation that blends active experience and relaxation with its magnificent beaches, breathtaking views of the countryside and old town, and bustling modern life.
1. When to go on a family holiday in Vietnam
Vietnam is a country of more than 1000 km in length and divided into 3 obvious areas: northern, central, and southern, and each area has its own characteristic of weather. The weather in each place of Vietnam can change from month to month and has a diversity of weather conditions.
Northern Vietnam
The north of Vietnam has 4 main seasons: spring, summer, autumn, and winter. The temperature here is quite cold, from 10°-15°C (50°- 60°F) in winter from November to January and could be much colder in mountainous areas such as Sapa.
In summer, the temperature can reach up to 25°-35°C (63°-77°F) and there could be more rain at this time of the year. The time during March, April, October, and November can be the best time for families to visit Sapa when the temperature is not too low and the sky is clearer.
Central Vietnam
The Central region is divided into two areas and the rainy season in the two areas is also slightly different. Therefore, the suitable time for the trip for both regions is from January to June.
However, there are also central provinces and cities, it is possible to make a trip to the Central region at any time such as Hoi An, Da Lat and you can still experience the beauty in those cities with its own characteristics. If traveling to the Central region in the summer, Nha Trang and Da Nang beaches will be two great suggestions.
Southern Vietnam
Southern Vietnam is generally warm and humid all year round, with two distinct seasons: the rainy season from May to November and the dry season from December to April. The best time to visit southern Vietnam is during the dry season when the weather is more pleasant and suitable for outdoor activities.
If you travel during the rainy season, you may encounter heavy rain, flooding, and occasional typhoons, which can disrupt travel plans and activities. However, the rainy season also brings a unique charm to the region, with fewer tourists, lush vegetation, and the chance to experience the local life during the traditional Tet holiday.
2. What to see and do on a family holiday to Vietnam
Hanoi – the capital city of Vietnam
Ha Noi is the capital city of Vietnam and is located in the northern part of the country, has been well-known for its rich cultural traditions, atmosphere and for its beautiful and ancient Old Quarter.
The list of activities for parents and children in Hanoi:
Visiting scenic landscapes such as Ho Chi Minh Mausoleum, The Old Quarter, The Temple of Literature and One Pillar Pagoda.
Visiting Vietnam National Village for Ethnic Culture and Tourism and participating in traditional folk games such as playing bamboo jacks, playing mandarin square capturing, skipping rope, etc.
Walking around Hoan Kiem Lake.
Visiting the night markets such as Hanoi Old Quarter Night Market, Quang Ba Night Flower Market.
Watching water puppetry at water puppet theaters such as Thang Long Water Puppet Theatre, Vietnam Puppet Theater, Lotus Water Puppet Theater, etc.
Taking a cyclo to explore the streets.
Ha Long Bay
Ha Long Bay is a UNESCO World Heritage Site and is known for its stunning scenery and unique geological formations. It features thousands of limestone islands and islets that rise from the emerald waters of the Gulf of Tonkin.
The list of activities for parents and children in Ha Long Bay:
Visiting Quang Ninh Museum.
Visiting Sung Sot Cave: This is the largest and most beautiful cave in Ha Long Bay.
Visiting Cua Van fishing village: participating in activities such as fishing, harvesting rice, cooking rice, etc.
Taking a cruise and overnight on the bay.
Visiting the Sun World complex: Children will enjoy the opportunity to cross the sea by cable car, both able to see the sky above and can watch the sea.
Kayaking to explore caves.
Taking part in water activities in Lan Ha Bay, including snorkeling to see the coral, which is suitable for children.
Sightseeing from above with seaplane: starting at Tuan Chau port, flight lasts 25 minutes, price 1,500,000 VND/person.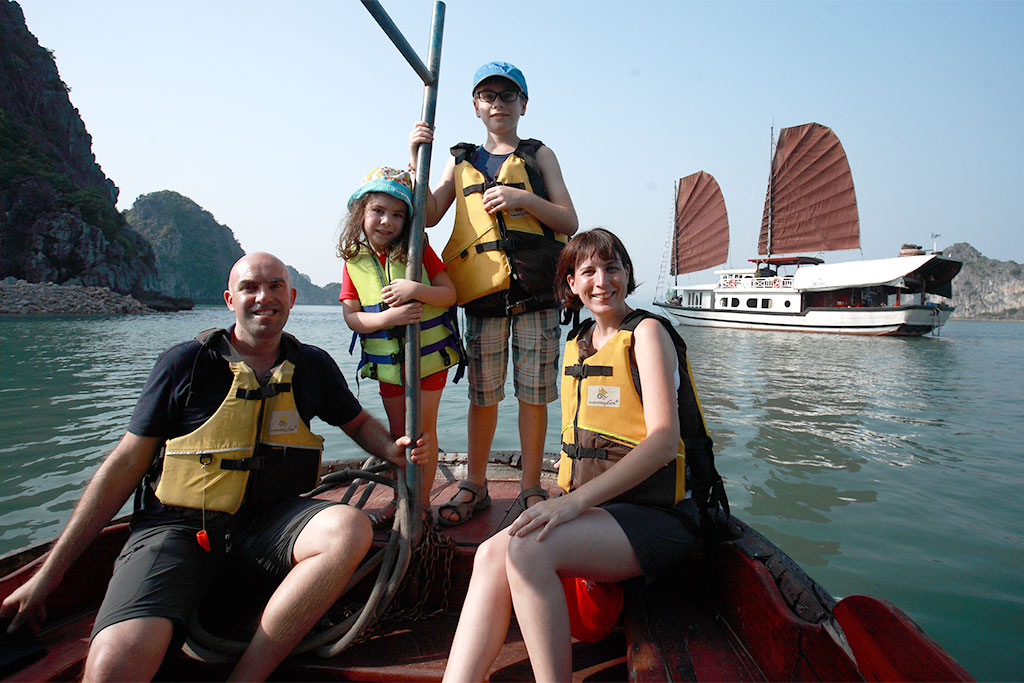 Ninh Binh
Ninh Binh is a province in northern Vietnam that is famous for its stunning natural landscapes, including limestone cliffs, rice paddies, and winding rivers.
The list of activities for parents and children in Ninh Binh:
Exploring Trang An Scenic Landscape Complex: Getting to one of the most beautiful landscape complexes in the world.
Taking a boat ride through the vast rice fields or getting lost among the giant limestone mountains in Tam Coc.
Taking part in Tam Coc cooking class.
Visiting historical sites and scenic landscapes such as Hoa Lu Ancient Capital, Cuc Phuong National Park, Van Long Nature Reserve.
Riding around to take time viewing the scenery.
Taking a scenic trek with family to strengthen health and enjoy the fresh atmosphere.
Pu Luong
Pu Luong is known for its breathtaking scenery, including lush forests, cascading waterfalls, and terraced rice paddies. Pu Luong is a great destination for those seeking outdoor adventures, such as hiking and trekking.
The list of activities for parents and children in Pu Luong:
Try homestay: Live with local families to experience the most authentic travel.
Visit villages: Ban Hieu, Ban Don and Kho Muong. However, the road in Kho Muong is more difficult, so it is only suitable for families with children over 10 years old.
Visit markets: Going to local markets to try the atmosphere and local food here, such as Pho Doan market, to buy local souvenirs and gifts.
Visit local waterfalls, including Ba Khan, Ban Hieu, and swim in pure water.
Walking on or cycling around the rice paddies: ​​Discover the area's traditional agricultural methods while exploring the gorgeous rice terraces.
Go Trekking: Embrace the hills and valleys scenery of Pu Luong
Watching birds: Keep a watch out for the numerous bird species, including rare and indigenous ones, that call Pu Luong home.
Sapa
Sapa is surrounded by picturesque mountains, rice terraces, and traditional villages. Sa Pa is home to several ethnic minority groups, including the Hmong and Dao, who have preserved their unique cultures and traditions.
The list of activities for parents and children in Sapa:
Trekking to discover the stunning countryside of Sapa
Climbing Fansipan Mountain: Take on the challenge of climbing Vietnam's highest peak, then take in the stunning views from the top.
Taking a cable car journey over the mountains to see Sapa in a different view. Children will surely be happy to see the view from above.
Visiting ethnic tribes villages: Get to know the locals, discover their traditions and customs, and take part in their way of life.
Visiting Sapa Market: Buy samples and hand-made products from local tribes.
Watching and walking through rice terraces while learning about conventional farming practices.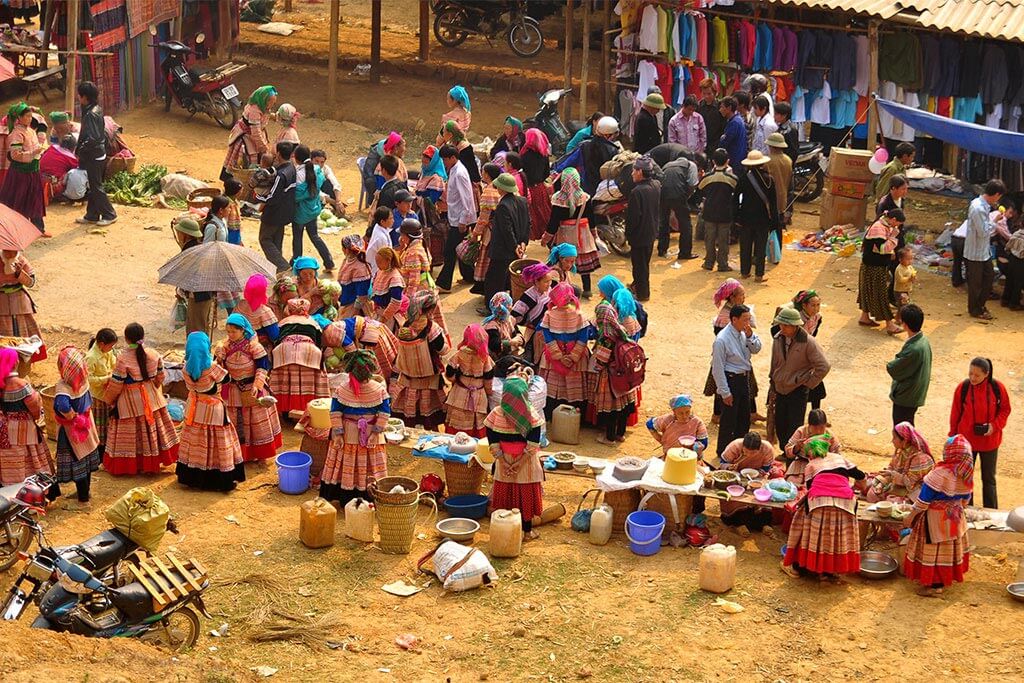 Hue
Hue is an ancient city located in central Vietnam and was once the imperial capital of the Nguyen Dynasty. The city is known for its rich history, impressive monuments, and scenic surroundings.
The list of activities for parents and children in Hue:
Exploring the Imperial Citadel: Visit the Citadel and the Forbidden Purple City, which previously served as the Nguyen dynasty's imperial capital.
Visiting the royal tombs: Discover the Nguyen emperors' tombs, including the tombs of Tu Duc and Khai Dinh.
Shopping at Dong Ba Market: One of the oldest marketplaces in Vietnam is where you can browse for goods and eat some local fare.
Exploring the Buddhist temples: Discover the local religion and culture by visiting one of the numerous Buddhist temples in the region, such as the Tu Hieu Temple.
Taking a scenic boat ride: Visit historic sites like the Thien Mu Pagoda and take in the breathtaking surroundings along the Perfume River.
Attending a traditional music performance: Enjoy a performance of the distinctive style of classical music called Hue Royal Court Music, which was created in Hue.
Going on a cycling tour: Get a beautiful bike trip, explore the surrounding countryside and take in the breathtaking views.
Attending a cooking class: Cooking class for foreigners when coming to Hue – Hue Inn Side Out, suitable for children also.
Hoi An
Hoi An is a small ancient town located on the central coast of Vietnam. It was once a bustling trading port from the 15th to the 19th century and is known for its well-preserved architecture, traditional culture, and delicious cuisine. Hoi An has been recognized as a UNESCO World Heritage Site since 1999 and is a popular tourist destination.
The list of activities for parents and children in Hoi An:
Explore the ancient town.
Visit the tailors and shops and get instant fashion tailoring.
Swim at the beaches, including An Bang beach and Cua Dai Beach.
Take a scenic boat ride along the Thu Bon River.
Attend a traditional music performance, take in a performance of Nguyen dynasty classical music or other traditional music and dance.
Take a cooking class: Hoi An Eco Tour and Papa's Cooking Class, Bay Mau Eco Cooking Tour, etc.
Join in a lantern-making activity: Learn the way people in Hoi An make the lanterns and bring home a souvenir.
Take part in a bamboo workshop: Explore bamboo arts and make your own gifts.
Cycle around the street: Ride the bike with flowers in the basket and take photos on the street.
Visit Cham Island: Take the boat to the island and embrace the scenery.
Release lanterns on the full moon day.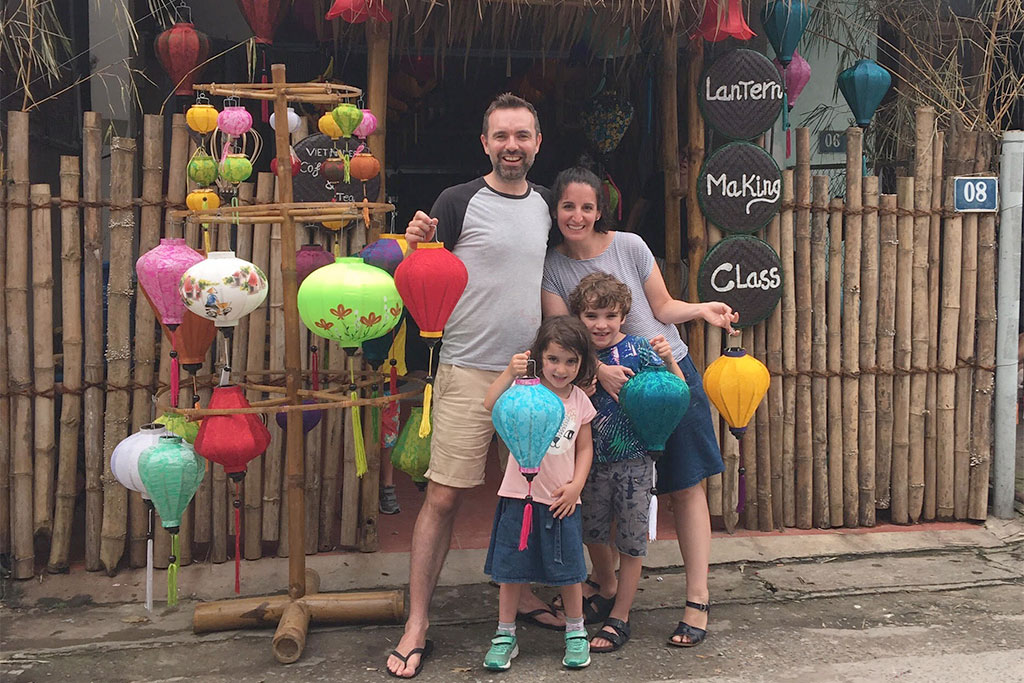 Ho Chi Minh City
Ho Chi Minh City, formerly known as Saigon, is the largest city in Vietnam and the economic capital of the country. The city is a bustling metropolis with a mix of modern skyscrapers and historic landmarks.
The list of activities for parents and children in Ho Chi Minh City:
Visiting Notre Dame Cathedral and Museums.
Shopping at Ben Thanh Market, one of the oldest and busiest markets today.
Walking in the pedestrian street: Nguyen Hue Pedestrian Street and Bui Vien West Street.
Explore Cu Chi Tunnels to learn about the unique architecture of the tunnels and about its history.
Experience the Green Farm for children: Children will be able to see the rustic and peaceful countryside; experience many interesting farmer activities such as milking cows, picking mushrooms, catching fish, feeding cows; enjoy many attractive country dishes.
Mekong Delta
The Mekong Delta is an area located in southern Vietnam with a dense network of rivers, canals, and waterways. Once coming to the Mekong Delta, visitors would be surprised by vibrant floating markets, traditional rural lifestyle, the sceneries and nature here.
The list of activities for parents and children in Mekong Delta:
Join Cai Rang and Cai Be floating Markets to experience the very life of local people.
Visit Sa Dec flower village in Dong Thap.
View Ta Pa rice fields.
Visit and buy fruit in orchards: Go to the orchards and buy the fruits directly from the farmers.
Visit Tram Chim National Park: There are many precious bird species, especially the red-crowned crane, an extremely rare bird named in the Red Book.
Boat ride along Tra Su Melaleuca forest, An Giang: This is a wetland forest, home to many species of animals and plants belonging to the special-use forest system of Vietnam.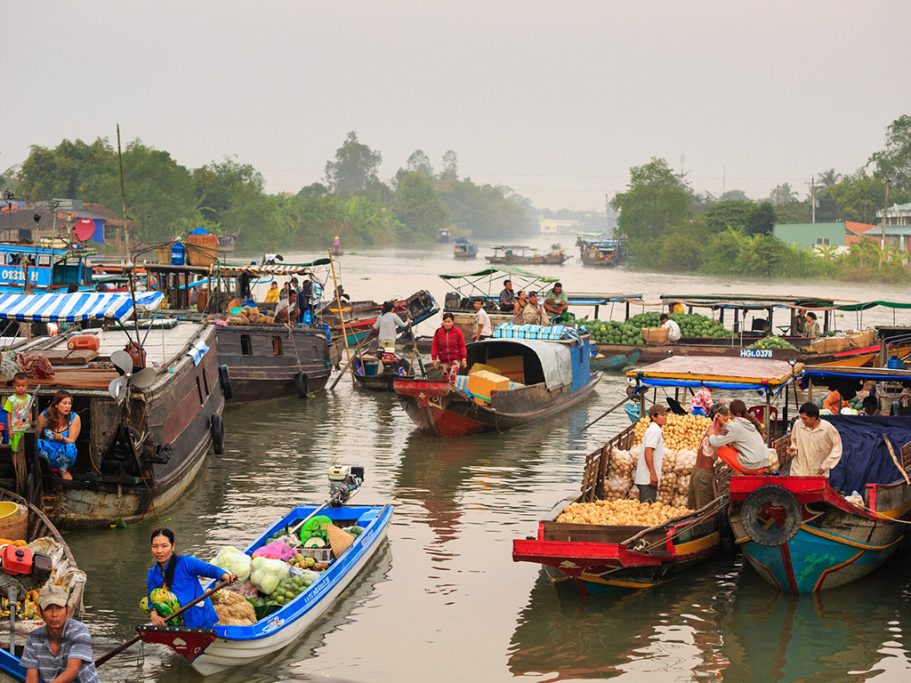 Phu Quoc
Off the coast of southern Vietnam is the gorgeous tropical paradise known as Phu Quoc Island, which is known for its clean beaches, turquoise seas, and lush woods.
The list of activities for parents and children in Phu Quoc:
Swim at Bai Sao beach: this is a pristine and clean beach, so it is safe for children.
Participate in water sports: scuba diving and snorkeling to see corals, walk under the sea, Kayak, etc. There are many other activities but these are the activities that children can participate in.
Visit Vinpearl Safari Phu Quoc: this is the coexistence of more than 4000 animals of 200 species from all over the world. Children will be able to explore in a realistic and vivid way the living environment of animals, thereby helping them raise their awareness of protecting the natural environment.
Go to Grand World Phu Quoc: admire the scenery by the Venice River with two rows of colorful shops
Discovering Phu Quoc Ridgeback Farm, parents and children will hear about the origin and behavior of this dog, observe dog training, or watch exciting dog racing.
3. Best hotel for family holiday in Vietnam
A perfect accommodation will provide you with a wonderful and complete travel experience. Join Hanoi Voyages to discover the types of accommodation that are suitable for your family trip to have a great travel experience in Vietnam.
Hotel
This is a popular type of accommodation for tourists when coming to Vietnam. With thousands of hotels with good quality service, they are highly rated based on criteria such as the number of rooms, restaurant services, staff quality, entertainment, location, and amenities such as restaurants, amusement parks, bars. You can easily choose a hotel to explore any destination in Vietnam.
Recommended hotels for a family trip to Vietnam:
Hanoi Pearl Hotel, Romance Hotel, Alagon City Hotel & Spa, Park View Saigon Hotel.
Resort
Resorts are built independently and include apartments, villas, etc. in places with spacious landscapes, far from urban areas to serve the relaxation and sightseeing needs of tourists. Resorts are a popular and preferred type of accommodation for families nowadays, with a variety of services such as restaurants, entertainment parks, and shops.
Recommended resorts to stay in Vietnam: Pilgrimage Village Resort, Vinh Hung Emerald Resort, Anantara Resort.
Villa
Villas provide customers with a luxurious space with perfect privacy, making it an excellent choice for your family trip to Vietnam. Each villa has a large and modern scale, built separately from the surroundings, giving you a feeling like you are in your own home. Each villa includes a living room, several bedrooms, a garden, and a private pool. This type of accommodation is becoming more and more popular, especially for families.
Top recommended villas in Vietnam: Sol's Villa Hoi An, Volar de Faifo Villa.
Ecolodge
Ecolodges prioritize sustainability and environmental responsibility. They are often situated in natural settings and offer eco-friendly amenities. This type of accommodation is perfect for those looking to have an eco-friendly and sustainable travel experience.
We recommend the following ecolodges: Sapa Ecolodge, Mai Chau Ecolodge, Pu Luong Retreat.
Cruise
Cruises are a type of accommodation that offer travelers the opportunity to travel on a ship or boat while visiting various destinations. They often come with all-inclusive packages that include meals, activities, and entertainment. Cruises are a popular form of accommodation for every tourist trip to Ha Long Bay and the Mekong River in Vietnam.
Best cruise you may want to try: Azalea Cruise, Heritage Cruise, Song Xanh Cruise.
Homestay
Homestay is an excellent choice for tourists, especially families, who want to experience a more vivid understanding of local life and culture. Homestay is a type of lodging service where tourists stay at the homes of local residents, helping visitors explore the diverse customs and traditions of each region.
Recommended homestay for a family trip: Chez Hiep Tam Coc Homestay.
4. Cuisine
Food is an indispensable cultural feature in every trip to a new land of every visitor. For Vietnamese cuisine, each region, each dish will have its own characteristics and flavors. Here are some typical examples.