What to do in Ha Long Bay
Kayaking
Some places in the bay are unfortunately inaccessible by junk, so opt for a kayak trip! This ecological activity gives you the chance to visit hidden caves, beautiful wild beaches and fishing villages. The route followed with a guide allows you to enter the sites in complete safety and to contemplate the most sumptuous caves such as those of Thien Cung, Dau Go, Sung Sot, etc.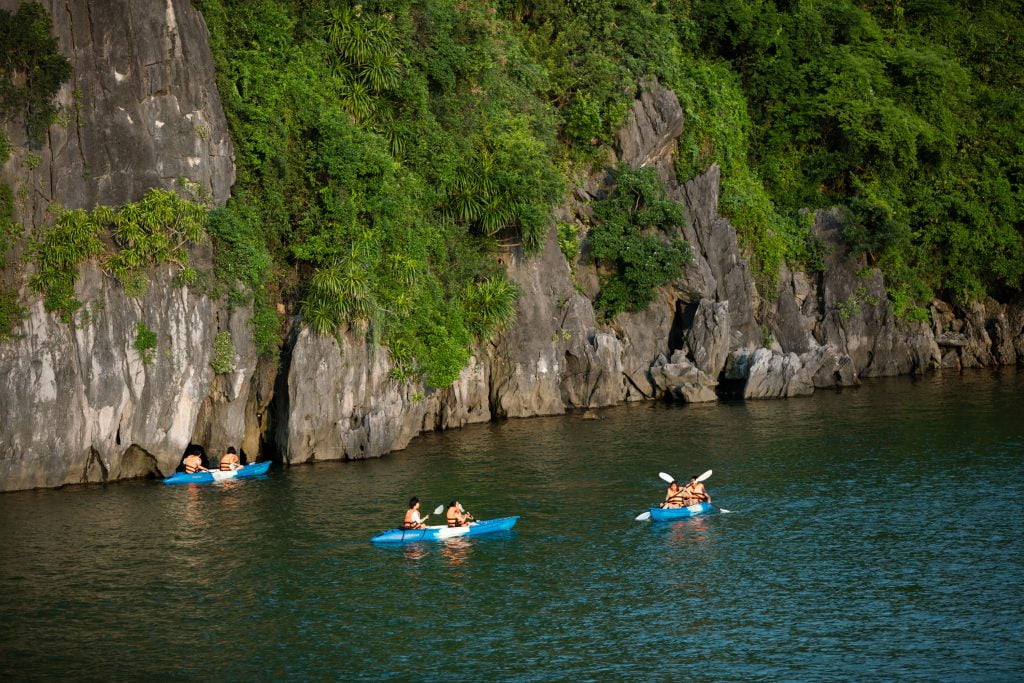 Discover floating fishing villages
Ha Long Bay is home to many families who work and live in mobile floating villages. Among these villages, those of Cua Van, Ba Hang and Vung Vieng are the most famous. While passing here, you can learn about the daily life, the fishing techniques of the locals and even taste fresh seafood.
Go on an adventure on the island of Cat Ba
Cat Ba Island is the largest island in Ha Long Bay. The national park of the island offers a rich and preserved fauna and flora. We advise you to opt for a walk or rent a bike to be closer to nature. One of the most interesting paths is from Ao Ech to Viet Hai village.
Rock climbing on Cat Ba Island
With over 3000 limestone islands, Ha Long Bay is known to be a paradise for seasoned travelers. Do not hesitate to try at least one of the 8 practicable climbing routes! Do not panic, it is mandatory to be accompanied by a specialized guide who will watch over your safety and show you breathtaking views!
Swimming at Tuan Chau Beach
This beautiful beach of emerald water and fine sand stretching over more than 3 km is an essential activity. Also, you can stay in luxury resorts, do sports activities and rest on the beach. Lazing on the beach is an activity in Ha Long Bay as simple as it is pleasant!
Visit Cua Ong Temple
Located in Cam Pha town, some 50 km from Ha Long, Cua Ong Temple is a destination for many Vietnamese pilgrims. It is one of the most famous sites of the Tran dynasty. In addition, the Cua Ong Temple Festival is a cultural activity not to be missed. If you feel like watching drum shows and dancing or trying out traditional games like chess, tug of war and stick wrestling, don't hesitate to take part in this festival.
Taste seafood
During your visit to Ha Long Bay, do not forget to taste the freshly caught seafood: prawns, octopus, squid, shellfish, and many others… However, note that the price will be very high in summer due to the tourist season. We advise you to ask the prices before buying seafood. For an unforgettable experience, know that it is possible to organize a barbecue on the beach with your friends and family.
When to go to Ha Long Bay
Northern Vietnam, Ha Long region have four seasons:
Spring (February to April): warm and comfortable temperatures, 20 to 21°C.
Summer (May to July): prolonged hot spells and occasional thunderstorms, highest 37-38°C.
Autumn (August to October): decreasing temperatures, misty mornings, and slightly chilly evenings.
Winter (November to January): drizzles and foggy conditions; cold.
Best time: September to November and March to May.
Cruises in Ha Long Bay
Cruise in this mythical bay with a spectacular seascape!
Different levels of traditional style junks: luxury, super-luxury and top of the range.
Privatized junks, equipped with a single and unique room on board, dedicated to the exclusivity of a single couple for honeymoon for example or to celebrate important, very privileged events.
Privatized junks dedicated to a small group of family and friends (max. 11 people) to meet up with one another.
Itineraries of our cruises primarily away from classic circuits to respect the notion of intimacy and exclusivity.
Private Cruise
In cruises of 2, or 3, or 4, or 5 days, different standards of junks are offered to you:
High-end luxury junk.
Super Luxury junk.
Luxury junk.
To help you discover this exceptional site, we favor the choice of a private cruise for standard of your choice. You will be there only between you and the crew, no other customers on board.
We have tested all the junks we offer. Their comfort, the quality of their services, the different durations of circuits in the bay, were our selection criteria. The junks that we have selected for our customers will make your stay – one night on board – a delicious unforgettable memory!