Why Should You Visit Sapa?
Upper Northern – Region of Sapa
Our invitation to experience a Tonkinese adventure, for an unforgettable change of scenery.
Along a winding road that climbs from valley to valley to reach an altitude of 1650m, you'll be amazed by the sight of terraced rice fields on the slopes of majestic mountains where authentic small villages live outside of modern times.
Colorful in their ethnic costumes with headdresses and trinkets, the different ethnic groups inhabit this magnificent setting and shine on the roads and trails, warm and endearing.
Sumptuous landscapes, unforgettable encounters and peaceful walks. Our invitation to live in harmony with a surprising NORTH! Click here to find out more about us!
Stay for 1 night with an ethnic family and prepare a meal with the hostess.
Reach out to the unknown, share, exchange, communicate.
Walk through the preserved and isolated small villages.
Meet the children going to school or surprising them during their daily exercises in the school yard.
Admire the women in costumes working in the rice fields, the men and the buffaloes.
Experience local daily life, the hemp weaving, indigo dyeing, H'mong embroidery, climb the staircases of rice fields, ever more beautiful, harmonious and attractive.
And get lost in the various ethnic markets, colorful and authentic meeting places for minorities.
What to See and Do in Sapa
Located in the H'Mong land in the ethnic cradle of the North, Sapa is a place where you can experience the daily lives of people living outside of modern times. The landscapes are sculpted by rice fields and colorful markets, ensuring an awe-inspiring experience.
Sapa is a former high-altitude station founded by the French at the beginning of the century. Home to over 30 ethnic minorities and Vietnam's highest peak, Mount Fansipan, which stands at 3,143 meters above sea level.
The ethnic minority villages in Sapa
Discover the ethnic minorities in the heart of the rice terraces.
Y Linh Ho village
Located in the Muong Hoa valley, is the starting point for hikes. Cascades, sculpted rice terraces, a magnificent setting! A 6 km hike through the terraced rice landscapes to the village of Lao Chai.
This small village is inhabited by the Black H'mong minority. On the way, you will meet women from the village in ethnic costumes. You will be touched by their kindness and willingness to walk with you for a while.
Ta Van village
Inhabited by Giay ethnic group. The people of Ta Van make stone and wood carvings. Women work on hemp, weave on looms, and prepare indigo blue dyes after harvesting the plant.
Ma Tra village
A village of Black H'mong minority – a tranquil and serene village situated in Sapa, renowned for its picturesque surroundings, including rice fields, bamboo forests, and small streams.
Ta Phin village
A village where Red Dao live. The village is surrounded by breathtaking mountains, lush green forests, and terraced rice fields, offering visitors an opportunity to learn about the local culture, witness traditional customs, and explore the countryside.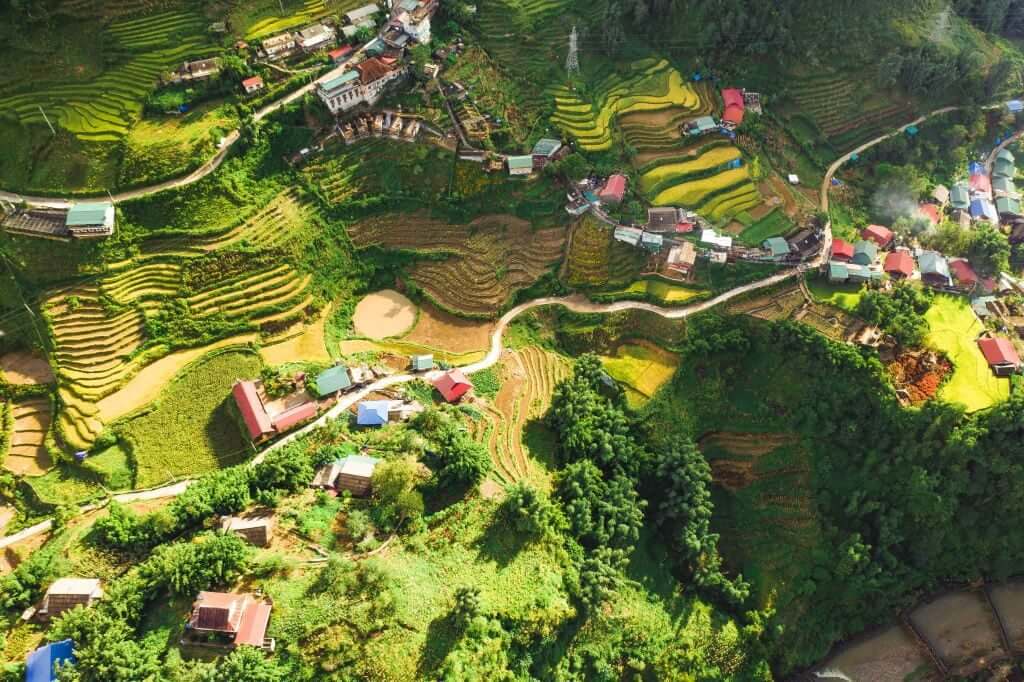 Thanh Kim – Su Pan Village
The ethnic villages in the Thanh Kim valley. Located 20 km from Sapa, near Topas Ecolodge, the Thanh Kim valley is inhabited by the Red Dao and H'mong, who still maintain their traditions, culture despite the influences of modern life.
The hike offers beautiful panoramic views of the Thanh Kim valley. 3 hours of walking before reaching the village of Lech, inhabited by the Red Dao and H'mong. Discover the village, its inhabitants, their way of life, customs, and typical dwellings.
The weekly markets not to be missed
Bac Ha Market
The Bac Ha market only takes place on Sundays: it is the most colorful market in northern Vietnam. Very touristy, but also very authentic. The minority ethnic groups, Hmong, Tay, and Phu La, come together here as the market is the place for commercial and social exchanges.
There is a lot of excitement in the middle of a devilishly colorful crowd. The Hmong women wear outfits made of large, richly embroidered skirts and a black top whose shoulders and neckline are also adorned with very "flashy" embroidery. They are adorned with beautiful silver jewelry.
These ethnic groups arrive early in the morning, often after walking kilometers. Women carry a basket on their backs with their handicrafts or products to sell.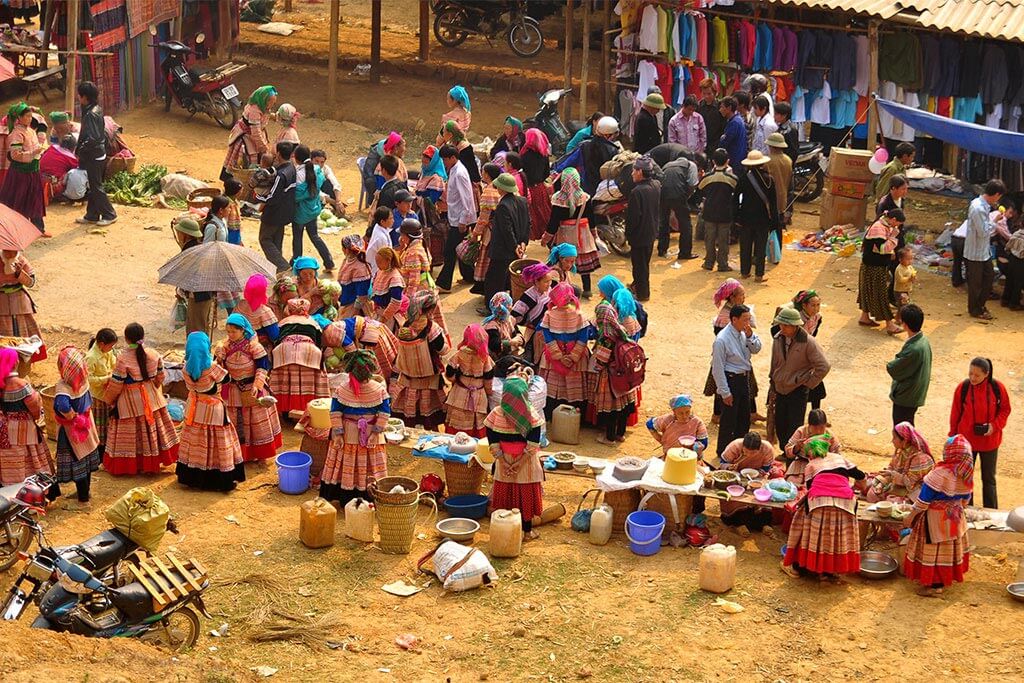 Can Cau Market
Saturday is market day. Two hours by car from Lao Cai, this village is in the valley, surrounded by mountains and terraced rice fields. Magnificent landscapes in a mountainous and domesticated setting!
The minority ethnic groups, H'mong, Black Dao, Black Hmong, and Tay, gather at markets as they are places for commercial and social exchanges. It is an opportunity to sell their handicrafts or trade with each other, to barter.
Coc Ly Market
On Thursdays, Coc Ly Market takes place. It has a beautiful, colorful, and authentic atmosphere where the six main ethnic minorities of H'mong, Black Dao, Tay, Day, Ha Nhi, and Nung gather. Each ethnic group is dressed in their traditional costumes.
The market is a meeting place for these mountain people and an opportunity for trading, exchanging, and communicating. The isolated and picturesque setting guarantees a change of scenery!
Sin Cheng Market
Depart for Sin Cheng Market, which is still preserved from mass tourism. This market is a place of meetings, commercial and social exchanges, frequented by the H'mong, Tay, Giay, Phu La, and a few other ethnic minorities.
The ethnic minorities, such as H'mong, Black Dao, Black H'mong, and Tay, gather at markets because they are meeting places for commercial and social exchanges. It is an opportunity to sell their handicraft products or trade with each other. Each ethnic group wears different costumes, creating a dazzling sight!
Trekking on the mountains
Trekking in Sapa is a popular activity among adventure enthusiasts and nature lovers. The region offers a variety of trails with varying difficulty levels, providing something for everyone. The most popular trekking routes include the Fansipan Mountain, Cat Cat Village, and Ta Phin Village.
Trekking in Sapa offers a chance to explore the region's rich culture, meet local hill tribes, and witness the area's spectacular rice terraces. The best time to go trekking in Sapa is from September to November when the weather is mild, and the rice terraces turn golden, creating a picturesque landscape.
When to go to Sapa
Sapa is located in the northern region of Vietnam. In the high mountains of Sapa, there is frost and fog.
January – February: maximum temperature is between 10-15°C.
March – April: maximum temperature is between 17-25°C. It rains relatively little, and the sky is cloudy.
May: temperatures rise to around 20-30°C.
July – August: the temperature continues to rise, and there is more rain, especially in July and August.
September: less rain.
October – November: the temperature drops to around 25°C, and the rainfall decreases.
Visitors should come to Sapa from November to April to enjoy the chilling temperature and the breathtaking view on the mountains.
How many days to visit Sapa
2 days and 2 nights
1st night: Hanoi – Overnight train – Lao Cai
Around 8:30 pm, with your guide, transfer to Hanoi train station to take the special sleeper train to Lao Cai. Your journey is in a superior sleeping compartment.
1st day: Visit the ethnic villages in Sapa. Overnight in Sapa
Early morning arrival at Lao Cai train station. Breakfast at a local establishment before starting the visits. Take a stroll (6 km) and overnight at homestay.
The village of Y Linh Ho, Muong Hoa valley, is the starting point for the hikes.
Short 2 km walk to the village of Ta Van, inhabited by the Giay ethnic group.
Overnight homestay:
Homestay accommodation in the ethnic area of the north
Staying with local families helps support the remote populations of our country, with the financial compensation going entirely to the families' hosting tourists.
An experience to be lived at least once!
2nd day: Either visit the villages, or visit the weekly market
6-hour day of hiking, mostly downhill.
In the morning, hike through the Giang Ta Chai bamboo forest inhabited by the Red Dao community.
Meet the villagers, visit their homes.
A short walk to the village of Ban Ho, also inhabited by the Red Dao. An unforgettable, authentic journey in a mountainous and cultivated setting!
Private vehicle excursion to Mount Ham Rong to discover an orchid garden and a magnificent panorama of Sapa.
Return to Hanoi by Bus. Arrival in Hanoi around 9 pm.
Where to stay in Sapa
Homestay
Staying with locals in ethnic communities in the north is not only a unique experience, but also contributes to the development of remote populations in our country. The financial compensation goes entirely to the families invested in welcoming tourists. It's an experience worth trying at least once!
Hotels in Sapa
Pi's Boutique Sapa Hotel
This 3-star hotel is located in Sapa and features a bar, garden, and terrace. Pi's Boutique Sapa Hotel is a romantic hotel offering rooms with flat-screen TVs and balconies. The breakfast included in the price is highly appreciated by travelers visiting Sapa. Enjoy an incredible setting amidst the rice fields, in perfect harmony with nature, to recharge your batteries.
Aira Boutique Sapa Hotel & Spa
This luxurious 4-star hotel is located in Sapa, a 5-minute walk from the city center. Its strategic location allows the hotel to offer peace and serenity, away from the deafening noise of the city while remaining close to shops. Here, all rooms have a magnificent view of the mountain, Fansipan, and the Muong Hoa valley.
The hotel has many amenities, such as a gym, spa, and pool.
BB Hotel Sapa
This well-located 4-star hotel in Sapa offers rooms with incredible views of the mountain, Fansipan, and the garden. To help you relax, the hotel features a restaurant, bar, heated indoor pool, spa, fitness center, tennis court, and function room.
Topas Ecolodge
Topas Ecolodge is a charming resort located on top of a beautiful hill in the heart of the Hoang Lien National Park mountains, just 45 minutes from Sapa in northern Vietnam.
The 41 rustic mountain bungalows are designed with local white granite in a minimalist chalet style, offering you all the comforts while allowing the main attraction, the magnificent and raw natural beauty of Vietnam, to take center stage.