What to do in Hoi An
Walking the Old Town at night
Witness the beauty of ancient houses and vibrant lantern-lit streets at night, where you may feel disoriented as if you have entered a lively festival of lights that blends the tranquility of old architecture with rural scenery and modern lifestyle. The most captivating area is likely the stretch by the banks of the Hoai River, where the colorful reflections of debris on the water add to the picturesque scenery.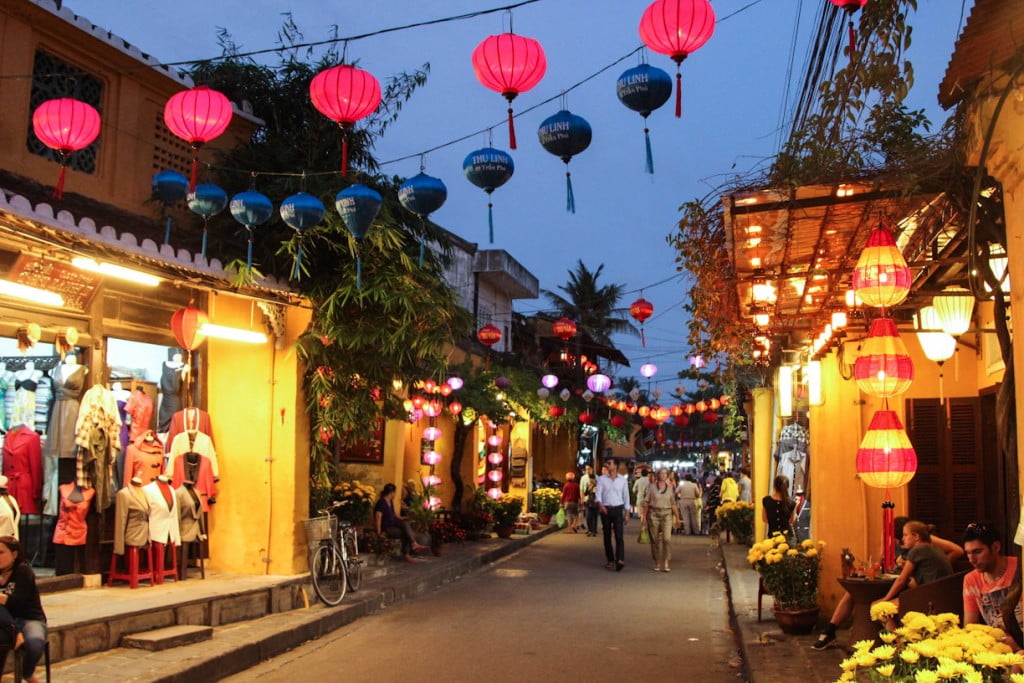 Take a boat and drop lanterns on Hoai River at night
Couples who visit Hoi An, especially for wedding photos, often enjoy taking a boat ride at night to see the Old Town and release lanterns. However, this activity is not limited to couples and can be enjoyed with family and friends.
Tailor-made clothes
In Hoi An, you can get your clothes tailor-made in just four hours. The fashion styles here are trendy and unique, and you can expect to pay a reasonable price ranging from 15 to 100 USD. This makes it a great option for those who are short on time but still want to get some custom-made clothing.
Relaxing at the beach
Hoi An is known for its stunning beaches with crystal clear waters and soft, white sand. Cua Dai Beach is particularly famous for its long stretch of pristine beach, swaying coconut trees, and inviting turquoise waters.
Another must-visit beach in Hoi An is An Bang, which has been recognized as one of the world's top 50 most beautiful beaches. An Bang Beach is perfect for those who crave a peaceful and serene atmosphere. You can simply enjoy the waves, the sun, and the refreshing sea breeze. It's a truly unique experience that you shouldn't miss while in Hoi An.
Snorkeling to see coral in Cham Island
To observe the coral in Cham Island, you can go snorkeling, scuba diving, or coral walking. Cham Island is situated about 15 kilometers away from the Old Town, and the island has preserved its natural state because of the lack of developed tourism services. While visiting, you can take part in various activities like camping, homestay accommodation, and savoring delicious and reasonably priced seafood.
Visit ancient houses
Hoi An has successfully preserved its invaluable heritage of ancient houses despite the damages caused by wars, urbanization, and natural disasters. These old houses have managed to remain intact, both in terms of architecture and spirit, through various events.
Among the most renowned ones is the Tan Ky ancient house, which was the first house in Hoi An to be recognized as a national monument and has welcomed numerous domestic and international heads of state.
Other notable ancient houses in Hoi An include Phung Hung and Quan Thang, as well as assembly halls such as Fujian and Cantonese, which feature distinct Chinese architecture and were constructed by Chinese traders to honor their homeland.
Play folk games
To experience the vibrant and exciting atmosphere of traditional games such as Bai Choi and Mandarin Square Capturing, visitors can visit the start of Nguyen Thai Hoc Street or Kazik Park. These games have been enjoyed by locals for generations and offer a glimpse into the rich cultural heritage of Hoi An.
Culinary discovery with the local
You will have the opportunity to participate in a cooking class at a local family's home that we have selected for you. With the guidance of the hostess, you will learn how to prepare some traditional Vietnamese dishes, which you will then have the pleasure of tasting.
Flash show
"Memory of Hoi An" show (7:30 p.m. – 8:45 p.m.)
In the evening, we invite you to a performance in an establishment in Hoi An. A troupe of artists will offer you a concert of traditional musical instruments, folk dances from the Hoi An region, regional songs, and a stage of costumed classical theater.
Bamboo show (6:00 p.m. – 7:00 p.m.)
A unique and breathtaking show! An acrobatic troupe that evolves on giant bamboos, to the rhythm of live tribal music! Something "never seen", recognized as a cultural heritage by Unesco.