Mai Chau, located in the north of Hanoi.
Carpets of rice fields in pretty checkerboards at the foot of the Tonkinese cordillera where small authentic villages are nestled.
The White Thai ethnic group lives in thatched-roof stilt dwellings and is mainly busy working in the rice fields. They make Ruon Can, a local alcohol made from rice.
Pedaling or hiking in this serene environment is a real pleasure and gives the opportunity to meet the inhabitants.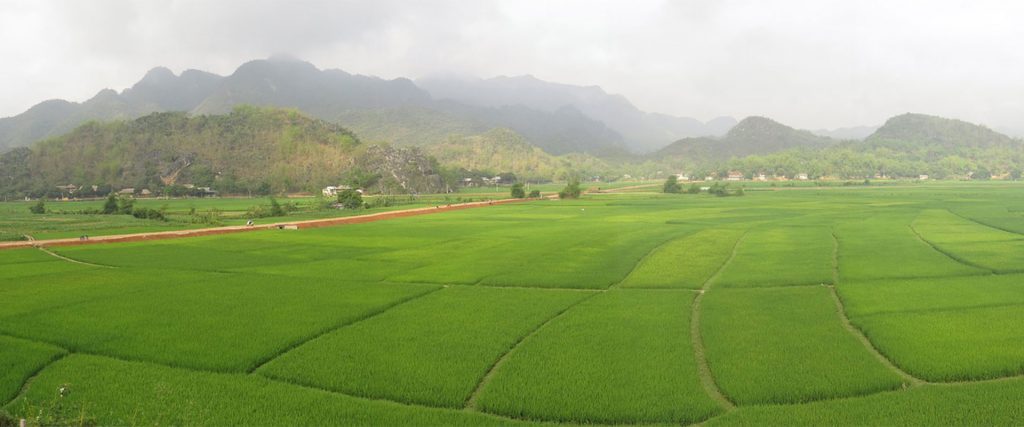 What to see in Mai Chau
Lac village
One of the most stunning villages in Mai Chau. Sits atop a plateau, encircled by verdant mountains and terraced fields.
A history of more than seven centuries, and its inhabitants continue to uphold the time-honored traditions and lifestyle of the White Thai community. The wood stilt houses in a conventional fashion, still used as homestays for visitors to the area.
Poom Coong Village
Located around 12 km from Mai Chau's center and situated on the route from Mai Chau to Moc Chau. Renowned for its numerous traditional handicrafts, particularly bamboo fiber items including conical hats, stuffed animals, bags, bamboo baskets, leaf mattresses, and other products.
Also famous for its delicious traditional cuisine, such as rice lam, roasted pork, grilled pork belly, roasted chicken, Mai Chau fish cake, and other specialties.
Various entertainment activities: chicken and dog racing, cultural performances, and other folk games.
Ba Khan Valley
Located about 13 km southwest of the town center. Magnificent natural landscapes, high mountains, waterfalls and picturesque lakes. The terrain is diverse, from plains to mountains, where there are terraced fields and lush rice fields.
Traditional craft villages such as Thai weaving village, pottery making village and woodworking village.
Ta Phin cave, Ma Coc cave, Chuoi cave and Duc waterfall… stop here to enjoy the fresh, quiet space of the Vietnamese countryside.
Hai Son Mural Village
A popular community tourism destination. A small village, about 15 km from the center of Mai Chau.
Famous for the hand painted murals on the buildings in the village, creating a large picture of beautiful colors. The paintings are hand-painted with oil paint, depicting the life, history and culture of Vietnamese people, from daily work to traditional festivals.
Thung Khe Pass
One of the attractions and favorites of many tourists when visiting Mai Chau. Located on Highway 6, connecting the two territories of Hoa Binh and Thanh Hoa, with an altitude of about 1,200m above sea level.
Majestic landscape, where visitors can enjoy the panoramic view of Mai Chau from a height. Adorned with the cold white patches of rocky mountains, clouds in the sky, green patches of grass and trees and points to the peaceful and quiet life of the villages.
The climate is cool all year round and the weather is nice in the fall. The steep slope is quite large, especially on winding roads, requiring quite skilled steering.
Mo Luong Cave and Chieu Cave
Two large and unique cave complexes in Mai Chau. Thousands of years old stalactites, many beautiful shapes and colors:
Mo Luong Cave: about 500m long, with many caves, low caves and walls, many stalactites and limestone.
Chieu Cave: located right at the foot of Thanh Son hill, about 700m in length, with many caves and different heights, with many beautiful attacking and rock formations.
Go Lao Waterfall
A stunning waterfall located in Mai Chau district of Hoa Binh province in Vietnam. Situated in a remote and pristine natural setting, surrounded by lush forests and mountains. Height of around 20 meters and a width of approximately 100 meters.
The water cascades down in a series of tiers, creating a mesmerizing sight and a soothing sound. Hike along a scenic trail through the forest to reach the waterfall. The trail can be a bit challenging. Wooden bridge and a small platform at the base of the falls.
A popular picnic spot, where visitors can relax and enjoy the natural beauty of the surroundings.
What to do in Mai Chau
Visit Village
Visiting the ethnic minority villages in Mai Chau is one of the most popular activities for tourists. You can explore the traditional houses on stilts, witness the daily activities of local people, and learn about their culture and customs. The most famous village is Lac Village, where you can see traditional Thai stilt houses, and enjoy local crafts such as brocade weaving.
Biking
Biking is an ideal way to explore the beautiful countryside of Mai Chau. You can rent a bike and cycle along the peaceful paths between the rice paddies and enjoy the stunning scenery of the valley. There are many biking routes to choose from, ranging from easy to challenging, so you can choose one that suits your fitness level.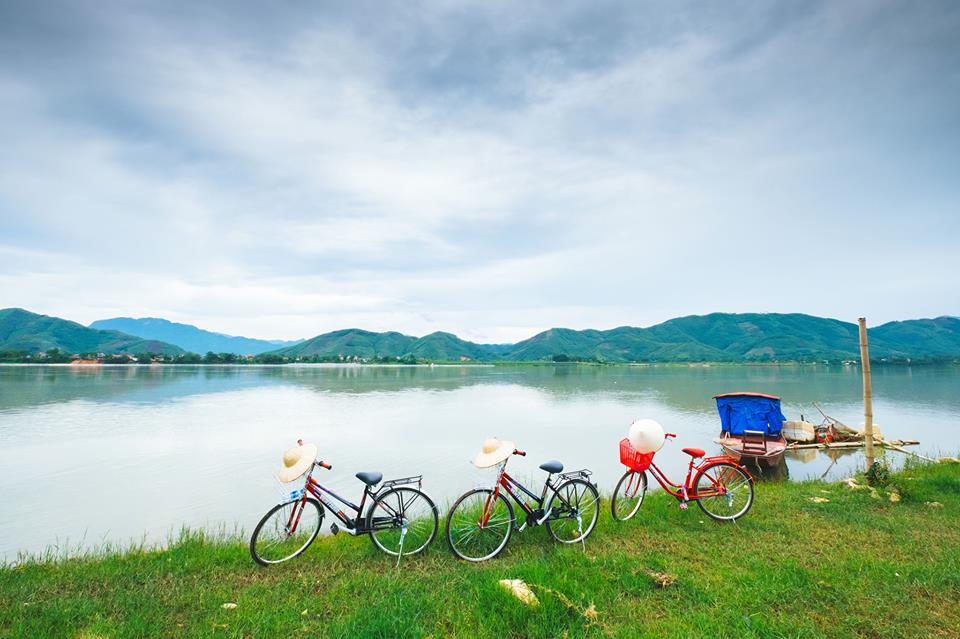 Trekking
Trekking is another popular activity in Mai Chau, especially for those who love outdoor activities. You can trek through the lush green forests and hills of the valley, explore the rural villages, and enjoy the breathtaking views of the mountains and rice fields. You can also hire a local guide to show you the best trekking routes and help you learn more about the local culture and history.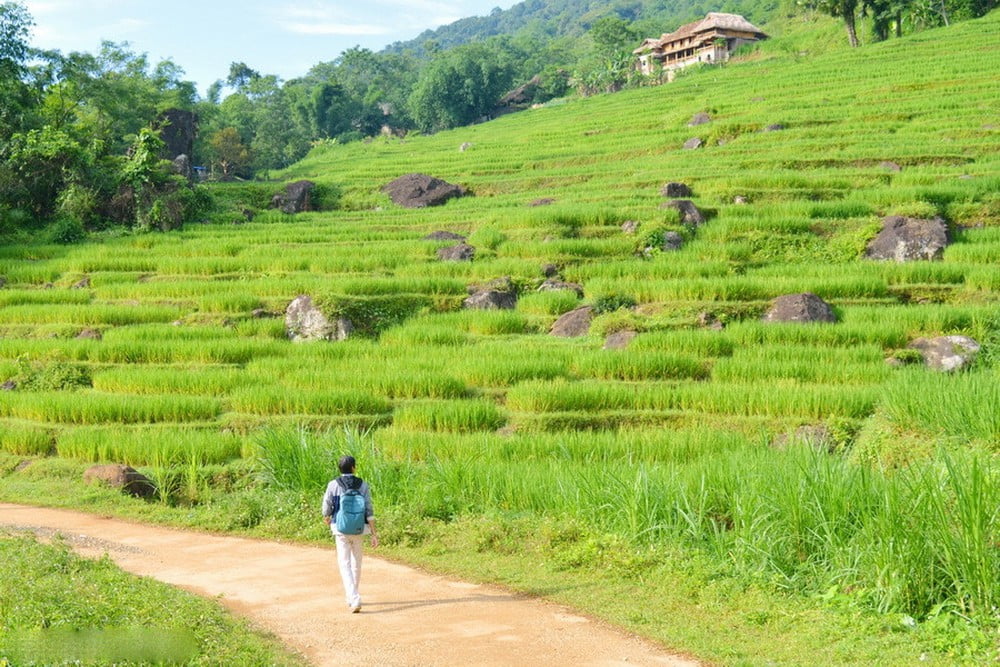 Savor local food
Mai Chau is famous for its delicious local cuisine, which is a blend of Thai and Vietnamese flavors. You can try traditional dishes such as "com lam" (sticky rice cooked in bamboo tubes), "thang co" (horse meat soup), "grilled pork belly", "Mai Chau fish cake", and many more. You can also enjoy a homestay with a local family, where you can taste authentic local dishes and learn about their culinary culture.
Watch plum and peach blossoms in full bloom
If you visit Mai Chau in the winter months, from February to April, you can witness the stunning beauty of plum and peach blossoms in full bloom. The valley is covered in a blanket of pink and white flowers, and it's a sight to behold. You can take a leisurely walk or bike ride around the valley and soak in the beauty of nature.