What to do in Con Dao Island?
Diving in Con Dao
With its beautiful beaches Con Dao is a dream place to relax. Its crystal-clear waters are ideal for water activities such as snorkeling and scuba diving.
The richness of the seabed is a delight for divers, seasoned or not.
Hanoi Voyages organizes diving excursions for all levels on the best spots and allows you to practice this activity in safety. Contact us!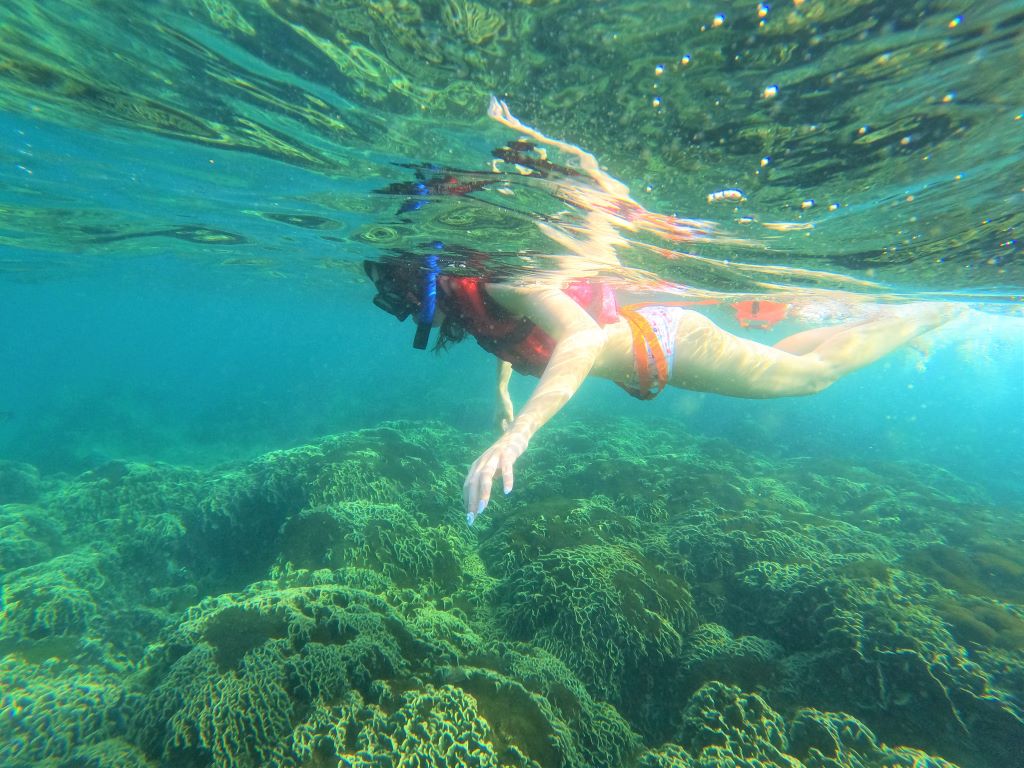 Hiking in the national park
Hanoi Voyages, specialist in "tailor-made" has made a good reputation by organizing your hiking days in the national park. We pick you up in the morning at the hotel and we transfer you by private car to the site. There you are picked up by our professional guide.
A local guide can lead you to hidden waterfalls and secluded beaches, and you'll be lucky enough to spot black squirrels and geckos. From the highest peak of the island, at 577m, you will have a splendid panoramic view of the entire Con Dao archipelago.
Sea fishing day
Hanoi Voyages organizes a day of fishing by private boat. The boat is reserved for your group only. Sea fishing, snorkeling, diving, swimming, a program to match your dreams! With equipment provided for sea fishing and diving.
Lunch on board, prepared by local fishermen who will delight your palate with simple but delicious preparations borrowed from local flavors that you will taste in an idyllic setting.
Observation of turtle nesting
Unique and unforgettable experience of watching turtles laying eggs in Con Dao, Bay Canh Island. Hanoi Voyages will get you the permit authorizing you to enter the place of observation.
Between April and October, the turtles come to lay their eggs on the beaches of Bay Canh Island, but from June to August is the best time to see them.
You will see Chelonia mydas sea turtles dig a hole which will be the nest to lay their eggs. You will then witness a magical spectacle! You will learn all about the life of these sea turtles and even more magical will be the moment when you watch these baby turtles return to the sea!
Rent a motorbike and go on an adventure
The tour of the island only takes half a day by motorbike. Rental possible on the site of your accommodation for a low price. Photo enthusiasts will have a great time as the environment is wonderful!
Private sunset cruise
A privilege activity of Six Senses Con Dao! Contact us to book the room and the cruise at the best price at Six Senses Con Dao.
An explosion of flamboyant colors from a sun that slowly dips to the horizon. That's what's in store for you on this romantic private boat cruise to the west side of Con Dao, passing Cape Ca Map (Shark Cape) and Dinh Tinh Yeu (Lovers Peak) before stopping on the other side of Hon Ba (Grandmother Island).
When to go to Con Dao Island?
It is hot there all year round. The hottest months of the year are April and May when temperatures can reach 35oC-36oC. The sea is often calm during this period, it is ideal for water activities.
Dry period (from December to April):
The temperature is pleasant during this period, 28-29oC.
From November to February, the Con Dao Islands are under the influence of the northeast monsoon, the sea is choppy and unclear. Avoid water activities: boat trips, scuba diving.
The best things to do are mainly on the island and in Con Dao National Park.
During this period, we recommend that you take advantage of the beaches in the West or in the South-West, which are less affected by the wind.
Wet period (May to November):
Violent and short showers at the end of the afternoon.
It rains more at the end of the rainy season in August, September, October.
Rainfall averages 2300 mm.
How to get to Con Dao Island
By plane
It's the fastest way. The flight lasts approximately 1 hour. Vietnam Airlines is the only airline that operates direct flights to Con Dao from Ho Chi Minh City and from Can Tho.
Several daily flights from HCM city while there is only one flight per day from Can Tho.
On a boat
The daily fast boat – Phu Quoc Express can reach Con Dao from Vung Tau just in 3 hours. You can also get to Con Dao from Soc Trang in the Mekong Delta by Superdong speedboat. This journey takes 2h30.
How many days to visit Con Dao Island?
Between beaches, hikes, historical and natural curiosities, the assets and beauties of Con Dao deserve a closer look!
2 days minimum of seaside stay in Con Dao Island. A true paradise for honeymoon trips and beach vacations in Vietnam!
If you have 2 days in Con Dao:
Day 1:
Visit Con Dao Museum to learn about the island's history and its political prison.
Take a boat trip to Bay Canh Island to see coral reefs and diverse marine life.
Head to Dam Trau Beach for some relaxation and swimming.
End your day with a sunset view at Bai Dat Doc Beach.
Day 2:
Start your day by exploring the Con Dao National Park, which is home to many rare species of flora and fauna.
Visit Hang Duong Cemetery, a somber reminder of the island's past.
Go for a hike to Ong Dung Beach and soak in the natural beauty.
Enjoy a seafood dinner at one of the local restaurants.
Remember to stay hydrated, use sunscreen, and bring mosquito repellent with you. Con Dao is a small island, so getting around by bike or scooter is easy and convenient. Have a great trip!
If you have 3 days in Con Dao
Day 1: as day 1 in option 1
Day 2: as day 2 in option 2
Day 3:
Explore the island's southern beaches, including Hon Tai Beach, Phi Yen Beach, and Nhat Beach.
Take a boat trip to nearby islands like Bay Canh Island or Cau Island for snorkeling or diving.
Visit the Con Dao Market for some local shopping and souvenirs.
Have a relaxing evening at a beachfront bar, watching the sunset.
If you have more than 3 days, do not hesitate to contact us for more information!
Where to stay on Con Dao Island?
Poulo Condor Boutique Resort & Spa
Poulo Condor Boutique Resort & Spa is ideally located along the wide sandy Vong Beach and at the foot of Chua Mountain.
Inspired by a harmonious blend of traditional Vietnamese design and early 20th century French colonial heritage, the resort embodies the richness of Vietnamese culture with the dynamism of the present.
36 suites and villas on 10 acres of scenic flora offer impeccable ocean and mountain views.
Six Senses resort
The first luxury resort among the islands of Vietnam's archipelago, it is contemporary in design, but draws on the essence of a traditional fishing village.
A refined luxury hotel in a wild and unspoiled nature. Stunning!
This resort, a sublime and discreet resort with a refined design of blond wood, camped on a long white sand beach with turquoise waters, between mountains and mangroves.
For relaxation, a private beach, Spa and fitness center will delight lovers of idleness. A superb lounge-library will also be a privileged and soothing place, where it is good to stroll during the hot hours.
Sports enthusiasts can take advantage of the tennis courts and numerous water sports facilities. Finally, the two restaurants, the MarketPlace and the By the Kitchen, serve refined, organic and skilfully prepared cuisine. Romantics can also eat on the beach or in the living room of their beautiful villa.