What to do in Hanoi
Take a cyclo ride
Take a ride to explore Hoan Kiem Lake and its legend, Ngoc Son Island and its beautiful temple in the middle of the lake. Navigate the bustling streets of the famous and fascinating "Old Quarter of the 36 corporations" and visit the famous Silk Street (Hang Gai). If you continue your trip to Vietnam to the central regions of Hue and Hoi An, you will also have the opportunity to discover the city by cyclo.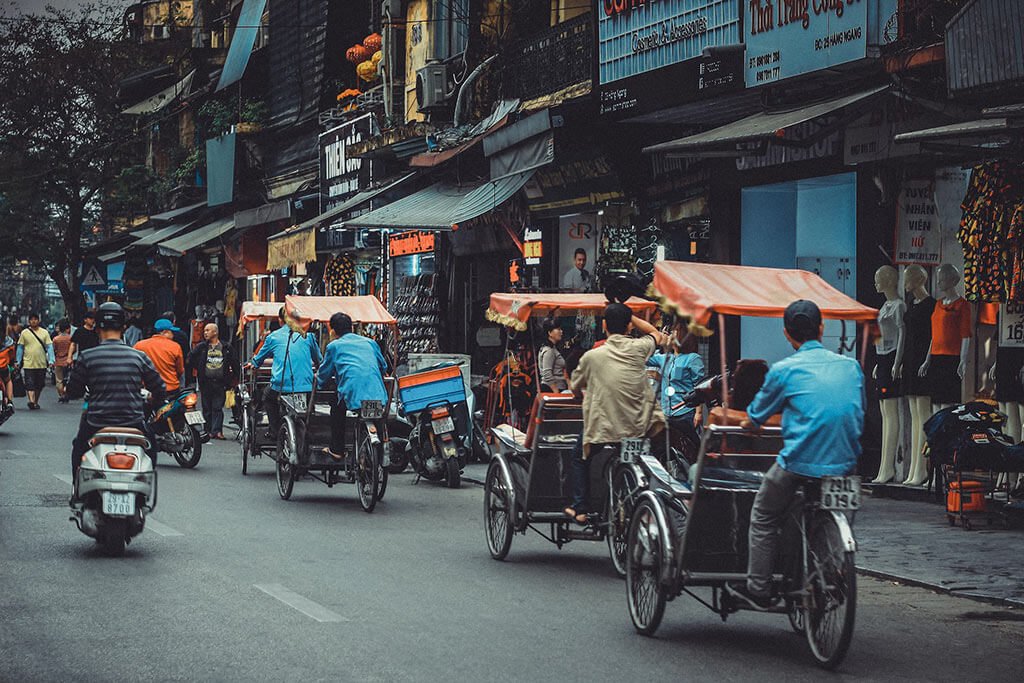 Attend a cooking workshop for foodies and gourmands
Follow us to the end of a small alley to an oasis of greenery where little birds chirp and fruit trees and flowers abound. Here, the love for the beautiful and delicious traditional cuisine of Hanoi is embodied. The hostess, accompanied by the women of the family, will guide you in preparing a complete menu that you will then enjoy in the charming setting of this lovely home.
Flash Flavor
Hanoi has just received an award in honor of its culinary specialties. If you enjoy tasting the culinary specialties of Hanoi and our country and want to fully immerse yourself in Vietnamese ambiance, we will be pleased to take you to one of our favorite establishments.
On the menu:
Pho (beef noodle soup), Cha Ca (La Vong fried fish paste), Bun Cha (grilled pork with rice vermicelli), Banh Da Cua (crab noodle soup), Mien Luon (vermicelli soup with swamp eels), Banh Com (glutinous rice cake), and O Mai (dried fruits). Don't forget to indulge in delicious steamed or grilled seafood, consumed in a local and relaxed atmosphere!
Egg coffee:
This drink is a specialty unique to Hanoi that originated in the 1950s. The story goes that at the time, due to a lack of milk, the owner developed a recipe based on eggs. And the success was there! It is a hot drink where the aroma of coffee and the finesse of the egg-based preparation mix harmoniously.
Enjoy a Bowl of Pho:
Immerse yourself in Vietnamese culture and visit a traditional and popular street food stall in our address book to discover the unique flavors of the Hanoian specialty called Pho.
Flash Show
The water puppet show
The water puppet show is accompanied by a choir and traditional Vietnamese instruments. It features excellent and talented artists who present a delightful and typical Vietnamese cultural spectacle that showcases the legend of the dragon and various scenes depicting rural life. It is both simple and humorous, beautiful and tasteful, and uniquely local. It is definitely worth seeing!
"My Village" Vietnamese Circus Show
The "My Village" Vietnamese circus show is a 60-minute performance full of gentle and emotional acts. It is an unprecedented and breathtaking show that features an acrobatic troupe performing on giant bamboo poles to the rhythm of live tribal music. This show has been recognized as a cultural heritage by UNESCO.
Meet a Calligraphy Master
Calligraphy, or Thu Phap in Vietnamese, is the art of forming handwriting characters beautifully. At the Temple of Literature, a private calligraphy class organized by Hanoi Voyages offers an opportunity to meet a professional calligraphy master and learn about this exceptional art. You can create your unique piece of calligraphy art to take home as a souvenir of your Vietnam adventure.
Go Shopping
Hanoi is full of small shops with colorful facades, second-hand stores, and fashion stores that offer attractive prices for both children and adults.
Spas and Beauty Institutes
Spa centers and hotels, massage and beauty salons offer a wide range of services at the price of a Starbucks coffee.
Dive into Vietnamese Nightlife
At night, Hanoi reveals another side of its personality and offers various activities to do alone, with family, or friends. When the sun goes down, "bia hoi" is a safe haven for beer lovers. This drink is served unlimitedly during meals and allows everyone to quench their thirst at a low cost.
Afterward, bars and nightclubs open their doors. Although the hours are relatively short, the experience of Hanoi nightlife is exceptional.
When to visit Hanoi
The northern region of Vietnam, including Hanoi and Sapa, has a wet season from May to September and a dry season from October to March.
In January and February, the temperature ranges from a minimum of 10 to a maximum of 15 degrees Celsius. In the high mountains of Sapa, there can be frost and fog during this time. In March and April, the temperature ranges from 17 to 25 degrees Celsius, and there is relatively little rain with mostly cloudy skies.
In May, temperatures rise to around 20 to 30 degrees Celsius, and beyond that, the temperature continues to rise, with more rainfall, especially in July and August. September is slightly less rainy. In October and November, the temperature decreases to around 25 degrees Celsius, and the rainfall decreases.
Where to stay in Hanoi?
For first-time visitors to Hanoi, the best place to stay is the Old Quarter, also known as Hoan Kiem, which offers a wide variety of hotels, restaurants, and street food to choose from.
Hanoi La Siesta Hotel
This luxury hotel is located in the heart of the Old Quarter and provides an elegant and refined environment after a good day of walking. With modern materials, precious decor, and friendly staff, this peaceful haven continually offers excellence to its guests. The hotel is 300 meters from the Old Town gate, 500 meters from Ngoc Son Temple and Dong Xuan Market, and 21 km from Noi Bai International Airport. It is ideally located to explore the city and discover its wonders.
Hanoi Pearl Hotel
Located in the Old Quarter of Hanoi, the Hanoi Pearl Hotel has received a certificate of excellence for its quality service and refined rooms. This 4-star hotel with undeniable charm and luxury offers its visitors calm and serenity for a few days, with staff who go above and beyond to meet any requests.
The Chi Hotel
Located on one of the liveliest streets in the Old Quarter, the Chi Boutique Hotel Deluxe is full of charm and will delight you during your stay in Hanoi. Fully equipped with modern rooms and suites, this classy and refined hotel has a warm and trained staff to meet all your expectations! To perfect your stay, the hotel has a rooftop bar with a splendid view of the city, especially at night!
Metropole Sofitel Hanoi
Hanoi is a charming and magical city. We hope that the Sofitel Legend Metropole Hanoi, with its unique identity, rich history, and classic romance, will make your trip to Hanoi even more special. Discover our elegant French-Vietnamese art of living and enjoy this wonderful space.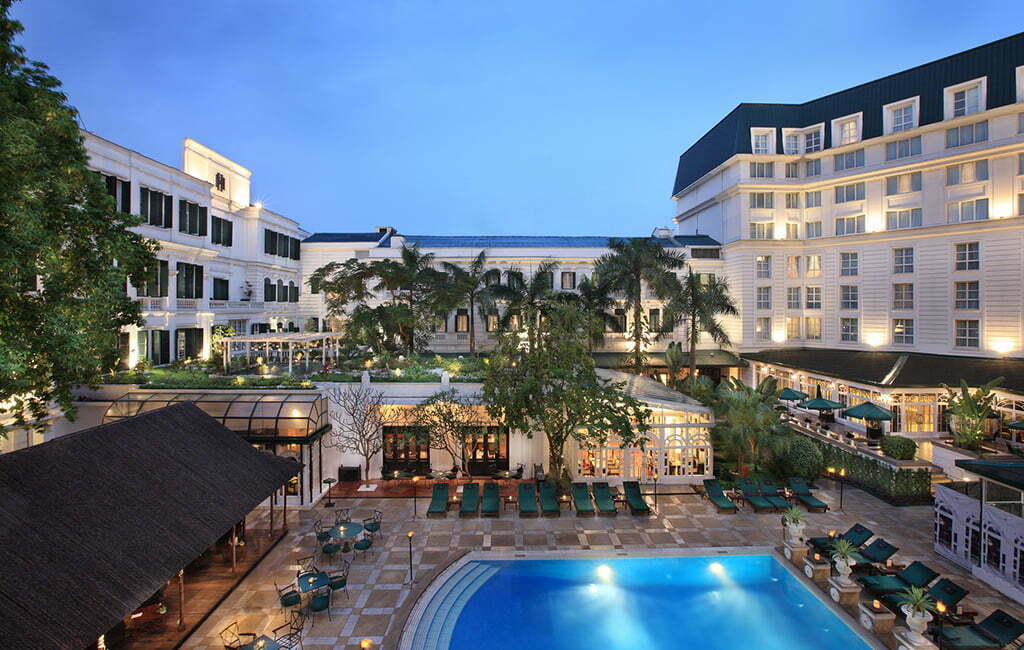 How many days to visit Hanoi?
Visiting Hanoi in 1 day
Ho Chi Minh Mausoleum.
One Pillar Pagoda.
Quan Thanh Temple & Tran Quoc Pagoda.
Temple of Literature, dedicated to the worship of Confucius and scholars.
Visit to Dong Xuan Market.
Visit to the Women's Museum: A beautiful representation of Vietnam, its customs, its rituals, its crafts, its history through women and the country's 54 ethnic groups.
Visit to the Museum of Ethnography, a wonder born out of French-Vietnamese cooperation.
Visiting Hanoi in 2 days
Following the itinerary of visiting Hanoi in 1 day, the 2nd day in Hanoi can be spent visiting the villages surrounding Hanoi.
Traditional Villages (cultural visits) and Craft Villages (for crafts)
Visit the Bat Trang craft village dedicated to ceramics.
Explore the Kieu-Ky craft village known for its production of "gold leaves".
Discover the Dong Ky craft village famous for carved wood and mother-of-pearl inlay.
Visiting Hanoi in 3 days
Following the itinerary of visiting Hanoi in 2 days, an additional day can be spent exploring the Perfume Pagoda.
The Perfume Pagoda is located 70 km away and takes 2 hours to reach by road.