Pho Doan Market held on Sundays
Participating in the Pho Doan market, held on Thursday and Sunday mornings, and discovering exotic products grown in the region. There are not too many tourists. Don't miss it if you are in the area on a Thursday or Sunday!
What to do in Pulong Reserve
Meeting Thai ethnic minorities
Pu Luong is populated by the Thai ethnic group who live in stilt houses with thatched or palm roofs. The daily life of the Thai is out of modern time for the most part. Meeting these people is a beautiful experience!
Thai hospitality is real, and sharing a meal with the Thai also means preparing the meal with them!
As for hiking, which is the only activity to practice, you will do it in the company of the host who knows the places better than anyone! You will discover very pretty villages, isolated in the middle of rice fields: Ban Hang, Ban Kho Muong, Ban Cao Hoong, Ban Eo Ken, Ban Uoi, Ban Chieng Lau…
In the village of Hieu, you will discover what waterwheels are. A system that collects water, pours it into buckets and pipes, and redistributes it in the rice fields.
Immerse yourself in nature
The mountains of Pu Luong are covered with humid tropical forests, while the valley is a series of cultivated terraced rice fields.
Take a walk along the valley floor or foothills to get closer to the flora and fauna of the region. Listen to the sounds of hydraulic wheels and the forest, meet residents busy with their daily tasks in the rice fields, and take photos of the greenery and fauna. Or simply stay at your hotel and enjoy fresh air.
Hiking to the Summit of Mount Pu Luong
In the language of the Thai ethnic group, Pu Luong means the highest mountain in the region. If you are an avid hiker, conquering the summit of Pu Luong at an altitude of 1700m is an unforgettable experience. It takes 5-6 hours of walking to climb it and enjoy a splendid view of the entire valley.
Swimming at Hieu Waterfall
A short hike through the rice fields leads you to Hieu Waterfall. The waterfall, nestled in lush tropical vegetation, forms beautiful pools of clear water suitable for swimming.
Kayaking on the River
For adventure enthusiasts, kayaking on the Pu Luong River is a very interesting option, especially during the rainy season. Paddle through a breathtaking river landscape, passing traditional stilt houses, impressive waterwheels, and farmland.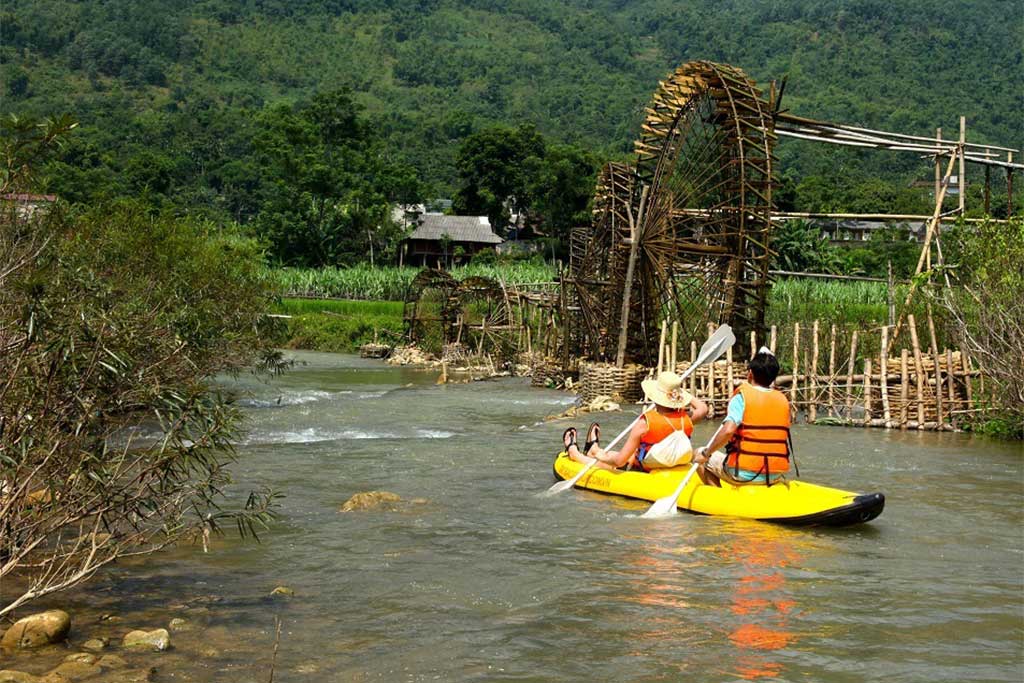 Discovering the Local Market of Pho Doan
The Pho Doan market takes place every Thursday and Sunday morning. Kinh, Thai, and Muong ethnic groups gather there to sell their products, including peasant agriculture and handicrafts. There aren't too many tourists here. Don't miss it if you are in the area on a Thursday or Sunday!
Staying with the locals
Homestay is currently a popular formula in Pu Luong, and it has proven successful in other regions. With the help of the state, the Thai people undertake housing development work that provides a minimalist level of comfort but offers nature-loving and peaceful tourists adequate food and sleeping arrangements. The income they receive directly, without intermediaries, thus significantly improves their living conditions